Support Omega by BioMatrix
The new Support Omega provides a high potency 820 milligrams of highly purified EPA/DHA per softgel as natural triglycerides, the preferred form with superior absorption, to rapidly increase cellular Omega 3 levels in the body.
Omega-3 fatty acids have also been shown to support development in children
Studies have shown Omega-3 fatty acids have helped to increase mood and concentration
Derivatives of the essential fatty acid linolenic acid, EPA and DHA, are omega-3 fatty acids found abundantly in fish oil
Burp-Free. Many complain of burping after taking other fish oils. Support Omega is burp-free for nearly everyone
Support Omega meets the strictest international trade criteria for trace heavy metal and pesticide concentrations
Support Omega utilizes USP-verified ingredients
Support Omega is manufactured in a pharmaceutical licensed plant using fish oil processed in the same harbor where the cold water, nutrient-rich fish are harvested. This incredibly short "catch to capsule" time produces the freshest fish oil available and the lowest oxidation levels in the industry. This exclusive fish oil is purified, vacuum distilled, and independently tested to ensure heavy metals, pesticides and polychlorinated biphenyls (PCBs) are removed to undetectable levels. This results in ultra-pure fish oil with substantially low digestive issues and burp back complaints.
Omega-3 Fish Oils for Optimal Health:
Omega-3 fatty acids are cornerstones of human nutrition. They are considered essential because we need them for health, however our bodies to not produce them and we must obtain them from diet. Since omega-3 fatty acids are known to benefit cardiovascular health, support healthy brain function, and a healthy inflammatory response, achieving the proper balance of omega-3s is an important health strategy. With over 10,000 published studies in the last three decades, EPA and DHA from fish oil are among the most researched natural ingredients available and have a long history of safety and efficacy.
The Support Omega Advantage
Support Omega is sourced from waters off the Chilean coast. As the world's least industrialized coastline, these cold, fresh waters provide one of the cleanest, most sustainable sources of fish in the world. To stabilize the oil, vitamin E (as mixed tocopherols) and rosemary extract are used to ensure maximum stability and freshness. This exclusive fish oil is purified, vacuum distilled, and independently tested to ensure heavy metals, pesticides, and polychlorinated biphenyls (PCBs) are removed to undetectable levels. †
The Formula: Purpose
Omega-3 fatty acids play a variety of roles in supporting physical health, notably:
Eicosapentaenoic acid (EPA) – To support healthy triglyceride and blood pressure levels for optimal cardiovascular health and to enhance mood and cognitive performance.
Docosahexaenoic acid (DHA) – To support a healthy HDL/LDL ratio and build the backbone of healthy brain cells to uplift mood, support restful sleep, and enhance cognitive function.
Docosapentaenoic acid (DPA) – To boost EPA and DHA stores and support healthy levels of arterial inflammation, which defends against clotting and promotes cholesterol balance.
The Forumla: Science-Based Ingredients
Omega-3 fatty acids are abundantly found in fatty, oily fish that reside in cold water. Belonging to the class of polyunsaturated fats, fish oil-derived omega-3 fats have been shown to support several aspects of health, including cardiovascular performance, eye health, cognitive function, and inflammation. For example, research shows that patients who supplemented with fish oil for 12 weeks exhibited improved blood flow and reduced triglyceride and pro-inflammatory marker levels.
Suggested Use
1 soft gel capsule per day or as recommended by your health care professional.
Ingredients
One Soft Gel Capsule of Support Omega Contains:
Total Omega-3s (as Triglycerides – 950 mg
EPA (Elcosapentaenoic Acid) – 430 mg
DHA (Docosahexaenoic Acid) – 390 mg
Omega-3s (additional – 130 mg
Other Ingredients: Highly Refined and Concentrated Omega-3 Fish Oil (anchovy), Capsule Shell (gelatin, glycerin, purified water), Natural lemon/Lime Flavor, and a Proprietary Antioxidant Blend (consisting of natural tocopherols,
rosemary extract, and ascorbyl palmitate).
---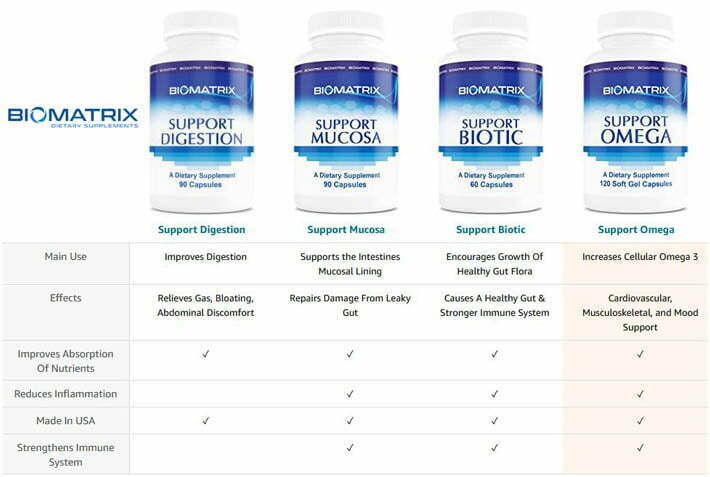 ---
About Biomatrix:
Science and Purpose
BioMatrix was formed in 1998 with a single purpose: formulate dietary supplements that can prevent and resolve the impact of chronic stress. We provide health professionals with products specifically formulated to address the underlying causes of illness identified by functional lab testing.
Our formulas are the standard of care for intervention protocols and maintenance supplementation for thousands of health professionals and their patients.
Confirmed effective by clinical usage and laboratory monitoring, BioMatrix is a leader in supplementation for preventing, managing, and reversing health problems.
The clinical application of each BioMatrix product is specific and tested. No shortcuts are taken in the sourcing of quality raw materials.
Biomatrix – The Clinician's Choice
Targeted at preventing and resolving the impact of chronic stress, BioMatrix' distinctive formulas are designed to help restore optimal function of the critical body systems.
Clinician's Choice
Targeted at preventing and resolving the impact of chronic stress, BioMatrix' distinctive formulas are designed to help restore optimal function of the critical body systems.
Efficacy validated by pre- and post- laboratory test data.
Therapeutic levels of nutrients derived from the highest quality sources available.
Eliminates the need for multiple supplements resulting in improved patient compliance.
Highly bioavailable even in compromised digestive systems.
Decades of clinical experience represented in each formula.
Trusted by thousands of health professionals and their patients since 1998.
Manufactured in FDA cGMP compliant facilities.
The BioMatrix Support line offers a select group of supplements formulated to support protocols guided by lab results. The functional intent of each product is inherent in its name. Accept no imitations. BioMatrix formulas are used by thousands of health professionals and their patients to manage and reverse the physiological dysfunctions created by chronic stress and related illness.
Synergistics Europe:
Welcome to Synergistics Europe Ltd, the only Official, Sanctioned Source for Metabolic Typing® Supplements. Metabolic Type® and Metabolic Typing® are the Registered Trademarks of Healthexcel, Inc. and William L. Wolcott, who is recognised as the world's leading authority on Metabolic Typing® and who has been researching, developing, and refining the science of Metabolic Typing® for over 40 years.
Synergistics Europe Ltd is an international company developed specifically to offer outstanding customer service to Health Care Professionals (Dr's, Qualified Health Professionals (CMTA/FDN) and their patients/clients. We provide the highest quality products available anywhere in the world. These products have been specifically designed to support various metabolisms as determined by the Healthexcel System of Metabolic Typing®.
Synergistics Europe's formulas are unique, having been manufactured in the USA exclusively by Ultra Life, Inc (since 1976). for the various Metabolic Types®.
All raw materials must meet exact standards of purity and potency. The finest state-of-the-art methods are employed in all aspects of production to maintains and preserve the highest nutritional value.
We are here to help, if you are unsure of any of the product details or how to take/administer the product, please do get in touch and we will endeavor to answer your questions and put your mind at ease!
Learn more about Synergistics Europe