Light Grey Celtic Sea Salt by Selina Naturally (1 lb bag – Course Ground)
The original and most trusted sea salt brand, referenced in more culinary and nutritional books and journals than any other salt in the world. Celtic Sea Salt® is authentic, unprocessed whole salt from pristine coastal regions. Our salts retain the natural balance and spectrum of essential minerals, supplying the body with over 74 vital trace minerals and elements.
Light Grey Celtic Sea Salt additional information:
Additive Free
Lower in Sodium
Exquisite Taste
Sustainably Harvested
More Nutritious than Table Salt
Recommended by Health Professionals and Culinary Chefs
Light Grey Celtic® is a mineral-rich, whole crystal (coarse), moist salt that is completely unrefined and hand-harvested. Dried by the sun and the wind; it retains the ocean's moisture, locking in a vast array of vital trace elements. Light Grey Celtic® gets its light grey hue from the pure clay lining of the salt beds where it is harvested.
Light Grey Celtic® is perfect for use in a grinder and for cooking. The whole crystals dissolve with heat and moisture, enhancing food with its rustic, old-world flavor while adding vital nutrients to your diet.
Light Grey Celtic Sea Salt Suggested Use
Works great for baking. Salt to taste, and enjoy!
---
View the side-by-side comparison chart of Celtic Sea Salt® by clicking the image below.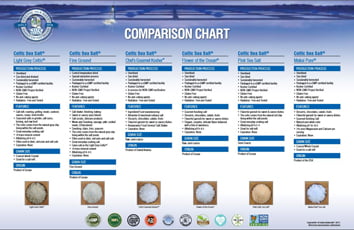 ---
About Celtic Sea Salt:
Since our founding in 1976, Celtic Sea Salt has grown into a worldwide brand, recommended for both unique taste and unique health benefits. Our roots remain at the center of our growth. While many claim to be the original, we have had over forty years to perfect our craft, and the resulting products embody our dedication.
Founder Jacques Delangre, PhD originated the natural salt industry in America with the creation of the Celtic Sea Salt brand. Jacques dreamt of providing education on the superior health benefits of natural sea salt through the delivery of his products. Today, the Delangre family carries on the distinguished tradition he founded with inimitable passion and pride. To honor his legacy, it is our promise that each product will exceed all quality expectations.
SUPERIOR QUALITY, PURE AND SIMPLE
We believe that not all salt is created equal. With our commitment to excellence in mind, each product is handpicked, hand processed, and hand packaged. Our team personally visits each pristine location where our sea salts are harvested, supervising the process from start to finish. With our guarantee that only the highest quality ingredients will be used, you can be confident that we are delivering the most pure and simple version available. Combine this with the diversity and versatility of our selection, and be assured that Selina Naturally offers products that fit your needs.
SHAKING THE SODIUM STIGMA
Our passion for salt is a direct result of the health benefits we have experienced firsthand. While sodium intake has become a widely publicized health issue, it is simply the ingredients in traditional table salt or ingesting improper quantities that result in negative health implications. In fact, sodium is an essential nutrient that controls blood pressure, and is needed to make nerves and muscles function properly – but you also need the right amount in the purest form.
BEYOND THE SALT
While our passion for sea salt is at the core of our brand, we are dedicated to being your trusted health and wellness product provider. Our extensive selection ranges from added value seasonings, electrolytes, and health and beauty products to recipes. We invite you to explore our complete selection of naturally healthy and delicious products.
MISSION STATEMENT
At Selina Naturally, home of the Celtic Sea Salt® Brand, we are dedicated to providing a diverse product portfolio, utilizing only the highest quality ingredients to create an inviting and memorable customer experience. Behind our brand is an unwavering commitment to do and be better, and this ideology remains at the forefront of all of our decisions. We are constantly searching for ways to create and innovate with no compromises, no substitutions, and no shortcuts. It is our mission to deliver the highest quality products available while never losing sight of our founder's vision to be your most trusted source of sea salt.
---
---
Synergistics Europe:
Welcome to Synergistics Europe Ltd, the only Official, Sanctioned Source for Metabolic Typing® Supplements. Metabolic Type® and Metabolic Typing® are the Registered Trademarks of Healthexcel, Inc. and William L. Wolcott, who is recognised as the world's leading authority on Metabolic Typing® and who has been researching, developing and refining the science of Metabolic Typing® for over 40 years.
Synergistics Europe Ltd is an international company developed specifically to offer outstanding customer service to Health Care Professionals (Dr's, Qualified Health Professionals (CMTA/FDN) and their patients/clients. We provide the highest quality products available anywhere in the world. These products have been specifically designed to support various metabolisms as determined by the Healthexcel System of Metabolic Typing®.
Synergistics Europe's formulas are unique, having been manufactured in the USA exclusively by Ultra Life, Inc (since 1976). for the various Metabolic Types®.
All raw materials must meet exact standards of purity and potency. The finest state of the art methods are employed in all aspects of production to maintains and preserve the highest nutritional value.
Expiry: 08/2035
Learn more about Synergistics Europe