Support Minerals
Mineral Supplementation is Essential
If your patients live in a pristine environment with clean air, rich organic soil, pure spring water, and have a healthy lifestyle – as well as no problems with digestion and absorption – you probably won't suggest they take a mineral supplement. But in the world that most of us live in, the air is polluted, the soil has been diluted of nutrients due to over-farming, pristine drinking water is rare, and compromised digestion is the norm – add to this overcooked foods, poor dietary choices, chronic stress, and the habitual use of substances that destroy minerals, such as cigarettes, sodas, and alcohol – it is no wonder that we need support in the form of an intelligently designed mineral supplement.
SUPPORTS MUSCLE BONE AND NERVE FUNCTION: Calcium is also needed for the structural support of strong bones. Support Minerals contains Potassium for muscle/nerve support, Vitamins A and D3 to improve Calcium absorption and support bone growth.
DELIVERS A HIGHLY POTENT SOURCE OF ABSORBABLE ESSENTIAL MINERALS: Minerals act as cofactors for enzymatic reactions. Support Minerals is a multi-mineral supplement that combines both macro and trace minerals with key ingredients that act as co-factors to enhance bioavailability and encourage absorption
PROMOTES ALKALINITY: Support Minerals also contains Vitamin A for additional antioxidant benefits and Vitamin D to recycle phosphate back into the blood, where it is used to maintain alkaline pH levels.
CONTAINS KREB CYCLE CHELATES FOR ENHANCED BIOAVAILABILITY: The Krebs cycle involves a series of chemical reactions that changes fats, proteins, and glucose into energy by converting them to Adenosine Triphosphate (ATP). The following acids are required to regenerate cellular energy needed for tissue fuel: Citrate, Fumarate, Malate, Succinate, and Glutarate.
MADE IN USA AND 100% MONEY BACK GUARANTEED: All of our products are made in the USA in a cGMP facility using highest quality thoroughly sources ingredients. If purchased from BioMatrix include a 100% money back guarantee is included if the consumer is not satisfied for any reason
Highly Absorbable Mineral Formula
Support Minerals is formulated to deliver minerals to their target cells by making use of co-factors required in the absorption and assimilation process. The betaine hydrochloric acid and glutamic acid in the formula help with acidification and promote absorption by assisting in the transfer across the cell membrane. The co-factors folic acid, biotin, and vitamins A and D3 support the uptake of the essential minerals. Folic acid and biotin maintain healthy cell function and assist in the production of enzymes.
Support minerals benefits:
Blend of macro and trace minerals.
Krebs cycle intermediates.
Contains supportive co-factors.
Highly potent source of essential minerals
May support hair, skin and nails & healthy bones
May support your immune function
May help alleviate certain PMS symptoms
May help repair cell damage from chronic stress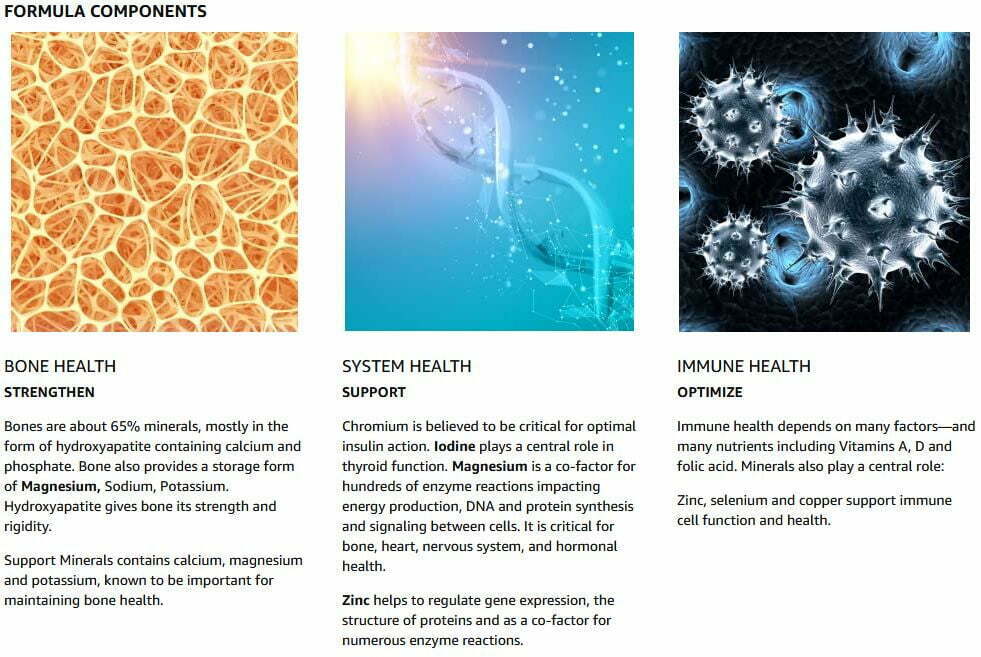 About Biomatrix:
Science and Purpose
BioMatrix was formed in 1998 with a single purpose: formulate dietary supplements that can prevent and resolve the impact of chronic stress. We provide health professionals with products specifically formulated to address the underlying causes of illness identified by functional lab testing.
Our formulas are the standard of care for intervention protocols and maintenance supplementation for thousands of health professionals and their patients.
Confirmed effective by clinical usage and laboratory monitoring, BioMatrix is a leader in supplementation for preventing, managing, and reversing health problems.
The clinical application of each BioMatrix product is specific and tested. No shortcuts are taken in the sourcing of quality raw materials.
Biomatrix – The Clinician's Choice
Targeted at preventing and resolving the impact of chronic stress, BioMatrix' distinctive formulas are designed to help restore optimal function of the critical body systems.
Clinician's Choice
Targeted at preventing and resolving the impact of chronic stress, BioMatrix' distinctive formulas are designed to help restore optimal function of the critical body systems.
Efficacy validated by pre- and post- laboratory test data.
Therapeutic levels of nutrients derived from the highest quality sources available.
Eliminates the need for multiple supplements resulting in improved patient compliance.
Highly bioavailable even in compromised digestive systems.
Decades of clinical experience represented in each formula.
Trusted by thousands of health professionals and their patients since 1998.
Manufactured in FDA cGMP compliant facilities.
The BioMatrix Support line offers a select group of supplements formulated to support protocols guided by lab results. The functional intent of each product is inherent in its name. Accept no imitations. BioMatrix formulas are used by thousands of health professionals and their patients to manage and reverse the physiological dysfunctions created by chronic stress and related illness.
Suggested Use
Four capsules before bedtime.
Learn more about Synergistics Europe
---

---