Support Digestion by BioMatrix
Maximize your nutrient absorption and gastric acid balance with Support Digestion, a powerful digestive enzyme blend. †
Enzymes – Catalysts of Wellness
Enzymes are involved in every life process in the body. Support Digestion is replete with enzymes that assist with thethe healthy breakdown of nutrients. Digestive enzymes are secreted into the digestive tract to break down macronutrients so they can be absorbed across the gut wall. If this enzyme system does not work effectively, optimal health cannot be maintained because of the failure to absorb the needed nutrients. Due to poor dietary choices, chronic stress, and infections, it's no wonder that so many patients are complaining of digestive distress and the resultant fatigue.
Bi-phasic Formula…Better Results
Support Digestion is formulated to help improve digestive function. The product is bi-phasic, meaning it addresses digestive issues both in the stomach (phase I) and in the small intestine (phase II). One of the ingredients that makes Support Digestion unique is Ox bile, a critical component which aids in the emulsification of fats. Support Digestion also contains Pancreatin 10x. This substance contains pancreatic enzymes, chiefly amylase, protease, and lipase, which are necessary for the breakdown of carbohydrates, proteins, and fats.
The Support Digestion Advantage
Support Digestion strategically delivers enzyme support to each phase of digestion. In the gastric phase, plant-based enzymes, and ox bile extract work in the stomach, promoting optimal pH and initiating the breakdown of macronutrients. This prepares for the second stage of digestion, the enteric phase, in which pancreatin 8x – containing the powerful enzymes protease, amylase, lipase and trypsin – is activated in the small intestine for optimal protein and fat breakdown. absorption. †
The Formula: Purpose
Pancreatin 8X USP – This potent form of pancreatin is a blend of pancreatic enzymes that boosts the breakdown of proteins, carbohydrates, and fats. Pancreatin 8X contains eight times the enzyme activity of regular strength pancreatin.
Pepsin – A multifaceted digestive enzyme to promote protein digestion, neutralize bacteria that invade your stomach, and facilitate the absorption of vitamin B12. It is present in gastric juice when digestive function is performing at its best, but often needed in supplement form as we age and encounter compromised gut health.
Ox Bile Extract – To efficiently digest fats, enhance absorption of the fat-soluble vitamins A, D, E, and K, neutralize small intestinal acidity, and promote gut motility and detox. It is especially helpful for individuals dealing with impaired liver function and chronic GI symptoms.
Papain – Derived from the tropical papaya plant, this enzyme catalyzes protein digestion so that your body can utilize peptides for critical metabolic reactions. It's often consumed specifically to address loose stools and malabsorption.
Bromelain – This acidic pineapple derivative supports protein digestion and targets inflammatory pathways to help guard your gut and ease aches. Due to its inflammation-reducing properties, some people use it as an adjunct therapy to treat inflammatory bowel disorders.
Two Capsules of Support Digestion Contains:
Betaine HCl – 300 mg
A Betaine hydrochloride is a source of hydrochloric acid, a chemical in the stomach that helps in digestion by breaking down fats and proteins. Hydrochloric acid helps maintain the optimum acidity (pH 1-3) for pepsin function.
Pepsin 1:10000 Powder – 45 mg
In the stomach, this proteolytic enzyme helps break proteins into smaller pieces called polypeptides, preparing amino acids for absorption.
Papain (2,400,000 FCCPU) – 67 mg
Derived from the fruit papaya, the uses of papain in medicine and general health are numerous. Papain has a soothing effect on the stomach and aids in protein digestion. It is an essential proteolytic enzyme.
Pancreatin 10X – 200 mg
A blend of the pancreatic enzymes that digest fats, proteins, and carbohydrates.
Bromelain (192 GDU/g) – 80 mg
Derived from pineapple stems, bromelain targets the long chain polypeptides of ingested proteins, and breaks them down via hydrolysis to shorter chain peptides.
Ox Bile Extract (Bovine) – 100 mg
Bile Extract is a natural fat emulsifier & stimulant for secretion of fat digesting enzymes.
Number of Capsules: 90
Suggested Use
General Suggestion: 1 or more capsules 10-15 minutes before each meal or as directed by health professional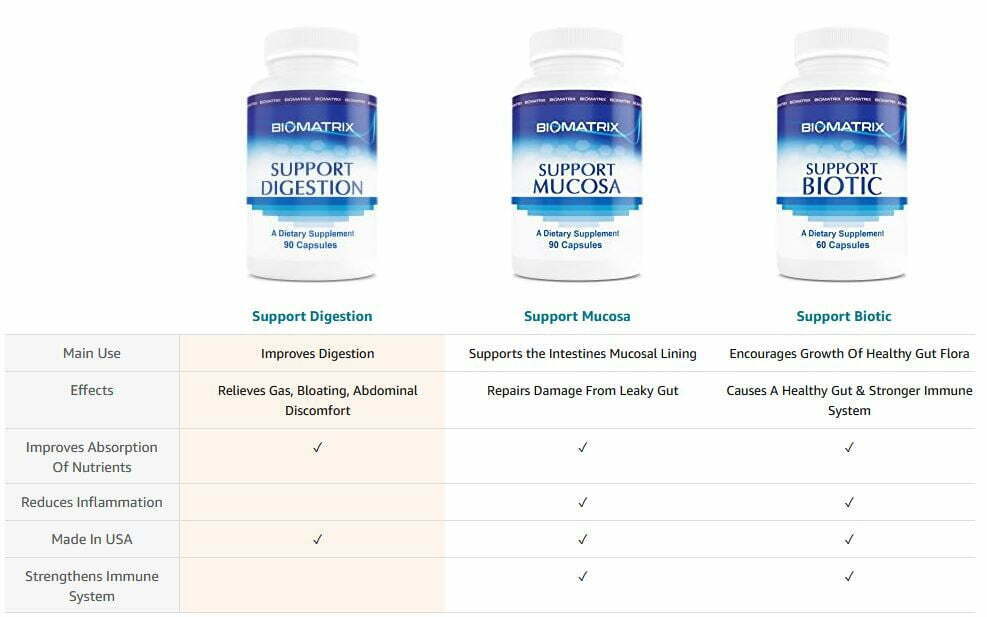 About Biomatrix:
Science and Purpose
BioMatrix was formed in 1998 with a single purpose: formulate dietary supplements that can prevent and resolve the impact of chronic stress. We provide health professionals with products specifically formulated to address the underlying causes of illness identified by functional lab testing.
Our formulas are the standard of care for intervention protocols and maintenance supplementation for thousands of health professionals and their patients.
Confirmed effective by clinical usage and laboratory monitoring, BioMatrix is a leader in supplementation for preventing, managing, and reversing health problems.
The clinical application of each BioMatrix product is specific and tested. No shortcuts are taken in the sourcing of quality raw materials.
Biomatrix – The Clinician's Choice
Targeted at preventing and resolving the impact of chronic stress, BioMatrix' distinctive formulas are designed to help restore optimal function of the critical body systems.
Clinician's Choice
Targeted at preventing and resolving the impact of chronic stress, BioMatrix' distinctive formulas are designed to help restore optimal function of the critical body systems.
Efficacy validated by pre- and post- laboratory test data.
Therapeutic levels of nutrients derived from the highest quality sources available.
Eliminates the need for multiple supplements resulting in improved patient compliance.
Highly bioavailable even in compromised digestive systems.
Decades of clinical experience represented in each formula.
Trusted by thousands of health professionals and their patients since 1998.
Manufactured in FDA cGMP compliant facilities.
The BioMatrix Support line offers a select group of supplements formulated to support protocols guided by lab results. The functional intent of each product is inherent in its name. Accept no imitations. BioMatrix formulas are used by thousands of health professionals and their patients to manage and reverse the physiological dysfunctions created by chronic stress and related illness.
Synergistics Europe:
Welcome to Synergistics Europe Ltd, the only Official, Sanctioned Source for Metabolic Typing® Supplements. Metabolic Type® and Metabolic Typing® are the Registered Trademarks of Healthexcel, Inc. and William L. Wolcott, who is recognised as the world's leading authority on Metabolic Typing® and who has been researching, developing, and refining the science of Metabolic Typing® for over 40 years.
Synergistics Europe Ltd is an international company developed specifically to offer outstanding customer service to Health Care Professionals (Dr's, Qualified Health Professionals (CMTA/FDN) and their patients/clients. We provide the highest quality products available anywhere in the world. These products have been specifically designed to support various metabolisms as determined by the Healthexcel System of Metabolic Typing®.
Synergistics Europe's formulas are unique, having been manufactured in the USA exclusively by Ultra Life, Inc (since 1976). for the various Metabolic Types®.
All raw materials must meet exact standards of purity and potency. The finest state-of-the-art methods are employed in all aspects of production to maintains and preserve the highest nutritional value.
We are here to help, if you are unsure of any of the product details or how to take/administer the product, please do get in touch and we will endeavor to answer your questions and put your mind at ease!
Additional Info:
Learn more about Synergistics Europe
Learn more about Synergistics Europe