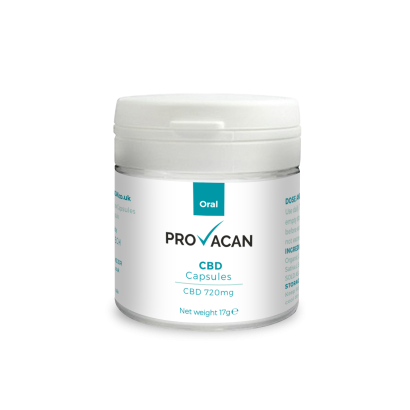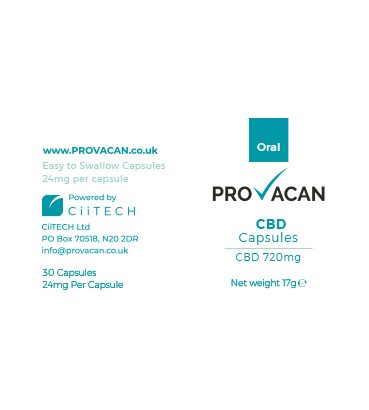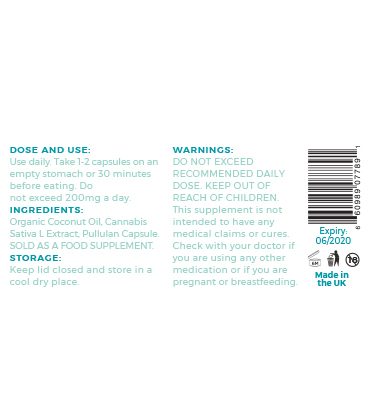 Provacan CBD Capsules | 30 720mg CBD (24mg/capsules)
Provacan CBD Capsules – 30 Capsules
CBD capsules offer a unique range of benefits for the daily CBD user. And of course, convenience is the name of the game. If you're looking for an authentic, expertly-engineered CBD product of the highest quality, but also want a quick, effective, no-frills consumption technique, capsules may be the option for you.
Enhanced ease-of-use compared to standard CBD oils
Tasteless, convenient, and pre-measured for consistency
Sourced from pure, organic, EU-cultivated Cannabis sativa (L)
30 capsules per container
24mg of CBD per capsule
Already Sold: 3
Available: 1
1 in stock
Provacan CBD Capsules – 30 Capsules
Provacan CBD Capsules – Our standard selection of CBD oil tinctures remain our best-selling products here at Provacan. To suit the needs of some of our customers however, we have introduced pre-measured CBD Capsules for convenience and ease-of-use.
Each capsule contains a robust 24mg of full-spectrum hemp extract. This is the same CBD formula we use to make our award-winning sublingual tinctures. In other words, Provacan CBD Capsules contain a host of naturally-occurring phytochemicals aside from the cannabidiol component.
Why Choose Provacan CBD Capsules
So what's the difference between CBD capsules and our oral CBD oils? Why might you want to choose one over the other?
In a word, it comes down to convenience. CBD oil tinctures can be cumbersome to consume, especially if you are trying to measure out an accurate milligram serving size. You must count the number of oil drops you are placing below the tongue, and then hold for up to 90 seconds while the cannabidiol absorbs into your body's cells.
CBD capsules are much more convenient. Simply place one of the pre-measured and pre-formulated capsules in your mouth, take a sip of something, and swallow. Quick and easy, and you know exactly how much CBD you're getting each and every time.
Enhanced ease-of-use compared to standard CBD oils
Tasteless, convenient, and pre-measured for consistency
Sourced from pure, organic, EU-cultivated Cannabis sativa (hemp)
If you've consumed CBD oil in the past and have not enjoyed the consumption methods involved, CBD capsules may offer a better experienced. They are pre-measured (meaning you get the same exact amount of cannabidiol each time), and they are ultra-convenient and easy to use.
Capsule vs other types
At Provacan, we don't just formulate new products for the fun of it. Each and every product we offer has been crafted with a specific use – and a specific purpose – in mind. Browse through the descriptions of some of our other award-winning CBD products to get an idea of what we're talking about.
In the specific case of Provacan CBD Capsules, the aim is primarily ease-of-consumption — as we've mentioned. These are pre-measured at 24mg per capsule, and offer a total of 720mg CBD for an entire bottle. Depending on how much you consume daily, this could translate to a month's (or more) supply of quality CBD use.
Why Provacan?
Established in 2016, Provacan CBD is the flagship brand of renowned cannabis research company CiiTECH. We are a science-led company that continuously puts resources back into research and industry innovation in an effort to give customers the very best CBD products for sale in the UK and EU.
Provacan CEO and founder Clifton Flack has spent years immersed in the cannabis industry, and it is his ongoing passion with cannabis-based health that has helped drive the company forward in an increasingly competitive market.
"Everything we do is led by the latest industry research and innovation — and that's exactly why so many customers trust us and our products. Just reading online recommendations from our loyal returning customers, [it] not only touches my heart, but it consistently validates the superiority in terms of the quality of our products."
Using the knowledge and expertise of world-renowned CiiTECH researchers, the aim of Provacan CBD is to help, develop, innovate, and commercialise CBD products for residents across the UK and EU.
Like other top-shelf CBD oils for sale in the UK, our products here at Provacan have been extracted from hemp plant material using the market's most advanced closed-loop CO2 machinery. Unlike other manufacturers, however (many of whom source their plant material from commercially-cultivated, low-quality bulk hemp supplies in India and China), our hemp is sourced in small batches from organically-certified European hemp farms.
By harvesting small batches at a time, we can extract the active CBD content in a low-temperature, low-pressure environment using laboratory-scale (as opposed to industrial scale) CO2 equipment. Many commercially-extracted CBD products are produced at an industrial rate under very high-temperatures in an effort to speed up the extraction process and minimize production cost. However, these practices often lead to degradation of the CBD compound by the time the final product makes it into the hands of the customer.
By extracting only in a low-temperature, low-pressure environment, we ensure that all Provacan CBD products contain the maximum amount of cannabidiol possible. And of course, each and every one of our products is sourced from the same premium-quality, organic supply of EU-grown hemp.
FAQ's
How do CBD Capsules work?
Unlike oral CBD tinctures that are consumed by placing droplets below the tongue, CBD capsules are swallowed whole. In this way, the active phytocannabinoid components are absorbed via the digestive gut rather than oral capillaries. There may be a gradual decrease in bioavailability for CBD that is subject to digestive metabolism. For maximized absorption, we recommend our range of CBD oils. For maximized convenience, we recommend CBD capsules.
How much CBD will I receive from a single capsule?
Provacan CBD Capsules contain 24mg of CBD each. With 30 capsules in a single bottle, this equates to a grand total 720mg CBD content.
What's the difference between Provacan CBD Capsules and Provacan CBD oils?
As we've mentioned, the primary difference is in terms of consumption method. CBD capsules offer a simpler, more convenient way to get your daily CBD serving. That said, both our CBD Capsules and our CBD Tinctures are sourced from the same organic hemp supply, and are formulated with the same full-spectrum CBD formula.
How do I consume the capsules?
It really couldn't be easier. Take one capsule, place it in your mouth, take a sip of something, and swallow. That's it.
Are Provacan CBD Capsules the right product for me?
This depends. Have a look at our blog or read through our article on how CBD works to get a better understanding of our product range. With an enhanced understanding of each one of our products, you can better choose which will be most appropriate for you and your needs. Of course, if you have any additional questions be sure and email us at info@provacan.co.uk.
** PROVACAN CBD CAPSULES CONTAIN LESS THAN 0.05% THC (images are for illustration purposes only)**
Learn more about Synergistics Europe
Ingredients
Organic Coconut Oil, Cannabis Sativa (L) Extract, Pullulan Capsule.
Find Your Perfect CBD Dosage
Whether you're new to CBD or you're a seasoned veteran, finding your dosage 'sweet spot' should be top of your to-do list…
We know it can be tricky. You want to get the maximum benefits from your product, but at the same time you don't want to take too much – CBD isn't the cheapest thing on earth and the last thing you want is to waste any.
We at Provacan put guidelines on our products with regards to dosage, but as there are no universal recommendations with CBD, how much you use is ultimately up to you.
With that being said, there are some things to keep in mind.
You're unique. Don't just copy your friend
Because we come in all shapes and sizes with varying metabolisms etc., we can respond to substances in vastly different ways. We all know the one person who can drink coffee at midnight and still sleep like a baby.
You won't overdose on CBD (but it's possible to take too much)
The World Health Organisation (WHO) declared that CBD is safe with low toxicity, stating that it has "no effect on a wide range of physiological and biochemical parameters or significant effects on animal behavior unless extremely high doses are administered."
The 'extremely high doses' referred to are more than 30mg of CBD per kg of body weight daily. So for a person weighing 80kg (12 st. 8lb), that would mean two full bottles of our 1200mg (12%) CBD oil – every day!
That's not to say that CBD is side-effect-free at high doses. Some users report that taking too much can cause drowsiness. We recommend that users don't take more than 10 drops of our 1200mg (12%) oil 3 times a day – 180mg total.
3 Tips For Finding Your CBD Sweet Spot
1. Start slow and work up gradually
Many users find success by starting with tiny doses, eg. 1 or 2 drops of our 6% CBD oil per day for a few days, to see how their body reacts to it. If everything's fine, then you could slowly add more drops or switch to a stronger oil until you feel the desired benefits.
​2. Use your weight
Many CBD experts recommend using your body weight to determine your ideal dose – or at least your starting dose.
The rule of thumb is to take 1-6mg of CBD per 10 pounds (4.5kg) of body weight per day. So, someone weighing 12 stone should take somewhere between 17 and 100mg daily.
3. Increase your dosage before bed
If you want to experiment with taking more CBD, try it before your usual bedtime. This way, if you do feel any drowsiness, it won't matter much as you're going to sleep anyway ????
Have a great day ????
The Provacan Team.