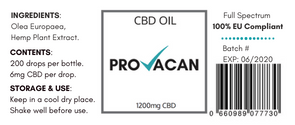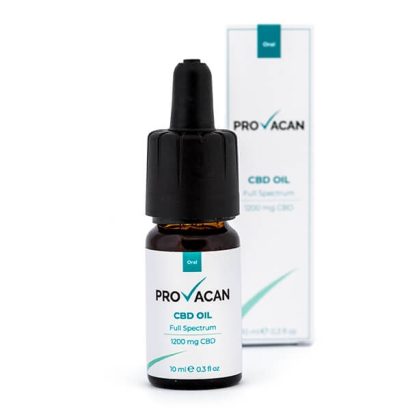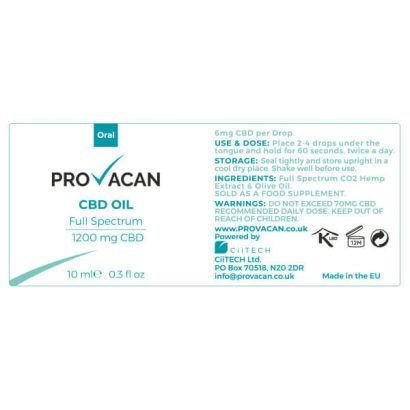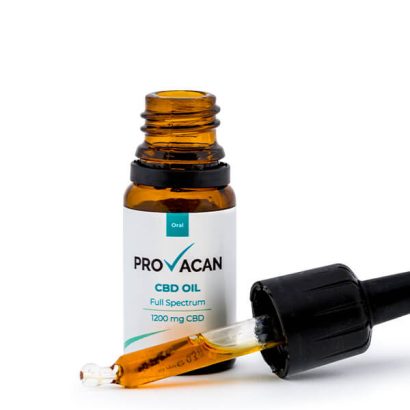 1200mg Provacan CBD Oil (12% Hemp derived Cannabidiol) – New & Improved Formula
1200mg Provacan CBD Oil
The Provacan 1200mg CBD oil formulation offers an intermediate level of hemp extract in terms of milligram amount that is ideal for everyday, all-around use. As one of our most popular and best-selling items, thousands of individuals choose to incorporate the 12% range into their daily lives for balanced wellness support.
1200mg Provacan CBD Oil has been enriched and enhanced with a full spectrum of active cannabinoids. More than 14.6% Total Cannabinoid Content in every bottle!
Our Classic "Provacan CBD 12% Oil" contains a guaranteed minimum 1200mg of CBD.
Already Sold: 34
Available: 9
9 in stock
1200mg Provacan CBD Oil
1200mg Provacan CBD Oil has been enriched and enhanced with a full spectrum of active cannabinoids. More than 14.6% Total Cannabinoid Content in every bottle!
Our Classic "Provacan CBD 12% Oil" contains a guaranteed minimum 1200mg of CBD.
1200mg Provacan CBD Oil Boosted cannabinoids.
CBD (Cannabidiol): 1200mg (12%)
CBDv (Cannabidivarin) 220mg (2.2%)
CBG (Canabigerol): 60mg (0.6%)
CBDa (CannabidiolicAcid) 18mg (0.18%)
GTCC (Guaranteed Total Cannabinoid Content) :

14.6%

We've thoughtfully and with clear focus, added 6 cannabinoids to the mix. including; CBG, CBDv, CBDa.
We've boosted the Terpene profile so not only is Provacan a richer flavor but has an optimized therapeutic performance.
UPDATE: NOVEMBER 22nd 2018 Provacan CBD Oil 1200mg has been approved for Kosher Certification by the KLBD.
10ml glass bottle containing our unique formulation of CBD with a more powerful cannabinoid entourage effect. The result, a well researched, lab validated and beautifully crafted CBD product for you.
Provacan Hemp Extract
Provacan Full Spectrum Hemp Extract Oil ensures the most accurate positive therapeutic experience.   Each 10ml bottle is supplied with a pipette and contains a full 1200mg (12%) of natural and organic hemp extract.   6mg CBD per drop.
Hemp extract has been shown to help a wide range of health conditions including dermatalogical, neurological, physical.  It's also being recognized by consumers as a powerful general health and wellness product.  No matter your health concern, there's a good chance hemp oil can help.
Provacan Oil is manufactured from the finest whole plant extracts grown and shipped from Europe ensuring the highest EU agricultural directives are guaranteed.   We are committed to sustainable agriculture, sourcing our raw ingredients from non-GMO crops grown without pesticides, herbicides, or insecticides.
FAQ's
How are Provacan CBD oils made?
Provacan CBD oils are made with low-temperature, low-pressure CO2 extraction equipment. Once the mature hemp plants have been harvested, the CBD-rich flowers and leaves are naturally cured to optimize moisture content. Next, the dried flowers are compressed and added to a solventless, closed-loop CO2 system. The supercritical CO2 "pulls" the activated CBD compound (along with other naturally-occurring hemp compounds) from the plant material and dispenses it slowly in the form of a raw, highly-viscous oil. Multiple purification stages are then employed to ensure nothing but the safest, most potent, most effective end product.
Will Provacan CBD oil get me high?
Absolutely not. Our CBD oils are 100% legal, and guaranteed to contain a THC content of 0.05% or less – far less than could ever get you high. (THC is the psychoactive compound of cannabis responsible for producing a "high")
Can I vape CBD oil?
Provacan CBD oils are made for oral sublingual (below the tongue) delivery, and are NOT designed for use in a vape pen or other form of vaporizer. For vape-specific CBD products, be sure to browse our complete range of Provacan e-Liquid products.
How much CBD oil should I take?
Specific serving amounts will vary largely from individual to individual. Typically, most customers start with our 6% (600mg) tincture and administer 1-2 drops twice daily (morning and evening), slowly increasing the dosage until proper/acceptable balance is achieved. Other customers may begin with our 1,200mg oil, taking 3-4 drops twice daily. We do not recommend maximum single doses (which may be taken up to three times daily) exceeding 10 drops of 12% oil.
How do I consume Provacan CBD oil?
Full-spectrum Provacan CBD oils are designed to be administered sublingually; place anywhere between 1 and 10 drops below the tongue, then wait for a minimum of 30 seconds before swallowing. This will allow the maximum amount of CBD to be absorbed into the body's bloodstream.
Is CBD Oil 1200mg Kosher?
Yes, Provacan CBD Oil is KLBD certified and is suitable for Kosher and Halal
extra Information
CBD works alongside the body's EndoCannabinoid System to reach every part of the body.  
HEALTH AND WELLNESS STARTS HERE.  Each 10ml bottle of Provacan Hemp Sativa Oil contains 1200mg of pure hemp extract.  Giving a powerful 12% ratio.
EXPERIENCE THE POWER OF PROVACAN. 6mg hemp extract per drop. Unrivalled accuracy and simplicity together with the power of the plant.
QUALITY FORMULATION.  Our full spectrum sativa hemp extracts have been formulated as food supplements with leading scientists & industry thought leaders.
TASTE SETS US APART. Our unique blend of exclusive Olea europaea oil and hemp plant extract gives our sublingual drops a pleasant & all-natural taste.
QUALITY ASSURANCE.  All our herbal remedies and health supplements are grown, processed and produced under strict EU agricultural and food processing conditions.
1200mg CBD version
Minimum 200 drops per bottle
Approx 6mg CBD per drop
We aim to deliver the highest grade products based on the most current science. PROVACAN products have unique formulations worked on in collaboration with leading researchers and institutions.
*Images are for illustration purposes only
*ALL OUR CBD PRODUCTS CONTAIN LESS THAN 0.05% THC
Learn more about Synergistics Europe
Ingredients
PROVACAN 12% CBD OIL: TOTAL CANNABINOID PROFILE
| | |
| --- | --- |
| ACTIVE CANNABINOID | AMOUNT CONTAINED (PER 10ML BOTTLE) |
| CBD (Cannabidiol) | 1200mg (12%) |
| CBDv (Cannabidivarin) | 220mg (2.2%) |
| CBG (Cannabigerol) | 60mg (0.6%) |
| CBDa (Cannabidiolic Acid) | 18mg (0.18%) |
Find Your Perfect CBD Dosage
Whether you're new to CBD or you're a seasoned veteran, finding your dosage 'sweet spot' should be top of your to-do list…
We know it can be tricky. You want to get the maximum benefits from your product, but at the same time you don't want to take too much – CBD isn't the cheapest thing on earth and the last thing you want is to waste any.
We at Provacan put guidelines on our products with regards to dosage, but as there are no universal recommendations with CBD, how much you use is ultimately up to you.
With that being said, there are some things to keep in mind.
You're unique. Don't just copy your friend
Because we come in all shapes and sizes with varying metabolisms etc., we can respond to substances in vastly different ways. We all know the one person who can drink coffee at midnight and still sleep like a baby.
You won't overdose on CBD (but it's possible to take too much)
The World Health Organisation (WHO) declared that CBD is safe with low toxicity, stating that it has "no effect on a wide range of physiological and biochemical parameters or significant effects on animal behavior unless extremely high doses are administered."
The 'extremely high doses' referred to are more than 30mg of CBD per kg of body weight daily. So for a person weighing 80kg (12 st. 8lb), that would mean two full bottles of our 1200mg (12%) CBD oil – every day!
That's not to say that CBD is side-effect-free at high doses. Some users report that taking too much can cause drowsiness. We recommend that users don't take more than 10 drops of our 1200mg (12%) oil 3 times a day – 180mg total.
3 Tips For Finding Your CBD Sweet Spot
1. Start slow and work up gradually
Many users find success by starting with tiny doses, eg. 1 or 2 drops of our 6% CBD oil per day for a few days, to see how their body reacts to it. If everything's fine, then you could slowly add more drops or switch to a stronger oil until you feel the desired benefits.
​2. Use your weight
Many CBD experts recommend using your body weight to determine your ideal dose – or at least your starting dose.
The rule of thumb is to take 1-6mg of CBD per 10 pounds (4.5kg) of body weight per day. So, someone weighing 12 stone should take somewhere between 17 and 100mg daily.
3. Increase your dosage before bed
If you want to experiment with taking more CBD, try it before your usual bedtime. This way, if you do feel any drowsiness, it won't matter much as you're going to sleep anyway 😴
Have a great day 🌞
The Provacan Team.