Gaia Herbs
Since Gaia Herbs was just a seedling in 1987, we have remained true to our purpose: Connecting people, plants & planet to create healing. We knew then what many are coming to realize now: that plants and people evolved together, that we are inextricably linked, and that plants hold the wisdom we need to heal.
Certified B Corporation®
Gaia Herbs is proud to be a Certified B Corporation®, actively working to build a more inclusive and sustainable economy. Certified B Corporations are businesses that meet the highest standards of verified social and environmental performance, public transparency, and legal accountability to balance profit and purpose.
£

27.50
Glycemic Health 60-Capsules Glycemic Health 60-Capsules: Blood sugar imbalances happen often — eating too much sugar, skipping meals, consuming caffeine — these can all trigger imbalances. Glycemic Health contains a blend of herbs traditionally used to help sustain healthy blood sugar levels already within a normal range.*
sold out
quick view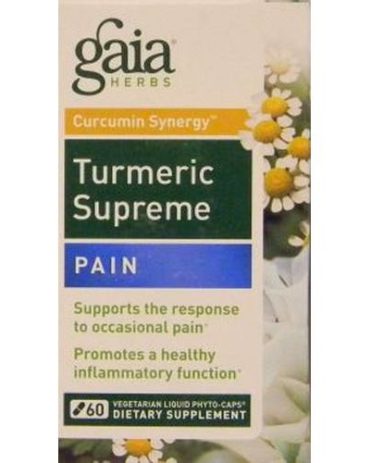 £

29.32
Turmeric Supreme Turmeric Supreme Supports the response to occasional pain. Promotes a healthy inflammatory function. Turmeric Supreme Benefits: A powerful whole plant profile of turmeric for ultimate inflammation support. Formally named Turmeric Supreme. Rich in the active constituent curcumin which promotes a healthy response to inflammation* Supercritical extraction of ...